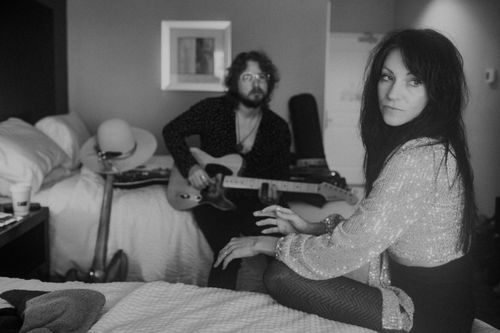 The Reverent Few 
Nick & I met the spring of 2011. After our first rehearsal, we found ourselves nestled up at a whiskey bar in Chicago. We bonded over old soul tunes and became instant best friends. Singing songs side by side night after night for a couple of years, exchanging quiet glances we grew to love one another in time.
Through our love and songs, we found ourselves in heavy times, our hearts called us to Austin, Texas in the fall of 2013 to tend to family. We left behind what felt like our entire lives but cultivated new found forever friendships and humble beginnings.
We recorded our self-produced EP in 2014 and later a full band EP in 2016. We released multiple live records through the years and on March 28, 2020 we released our long awaited and first studio album, Ain't No Place to Be. We recorded with Nick Jay at Century Recordings in Dripping Springs. Special guest, Anthony Farrell from The Greyhounds is featured on keys and our OG drummer, Rob Gould from Nashville played drums.
We have endured our greatest losses together in music and our songs echo the sentiments of survival and hope. While our sound has thumbprints of soul, spiritual and gospel musings, we thrive on a very visceral channel and pulse heavy with rock-n-roll fury, bluesy belts, guitar swells, big hearts and a lot of grit.
Our band and members have swayed and shifted over the years but we've found our concrete foursome this last year in Ashlyn Shanafelt on drums & Spanky on bass.
Ashlyn is our pulse and back beat but she is our sister in song and life. She is our sassy Texan, always cracking jokes and the girl is more musical than she lets on, you'll see and hear more of that in our upcoming recordings this year.
"Spanky" Christopher Alexander spent a decade on the road touring all over North America & Europe with Samantha Fish. He holds down the nastiest grooves, proof in the stank face you'll see in most of our photos. He hails from the DC area originally but has been in Austin for years. He is my fellow Asthmatic in the band and is tasty in playing and kind to the world around him.
Nick & I both grew up playing in the Chicagoland blues scene, weaving sounds of rhythm and blues with a rock-n-roll attitude. We love bold artists like Bowie, poets like Prine and Tom Waits and bands like The Band, Little Feat, The Staple Singers, The Stones, The Wood Brothers and more.
Collectively we are The Reverent Few!